GENERAL
The educational policy of Doping Authority Netherlands makes a clear distinction between elite sports (organised sports) and fitness (sports organised on other lines). Elite sports are subject to doping regulations. Doping Authority Netherlands has the authority to conduct doping controls on the basis of these regulations. That is not the case in the fitness sector and so a different approach is required there. Furthermore, Doping Authority Netherlands is responsible for providing the general public with information.
ELITE SPORTS
The objective for elite sports is: the prevention of inadvertent and deliberate anti-doping rule violations in Dutch sport.
The three main target groups in elite sports are:
Elite athletes
Support staff
Sports associations
Elite athletes
To prepare promising athletes over a period of approximately eight years for competition at the global level, the ADAN foundation developed the 'Doorlopende Leerlijn Dopingvrije Sport' (ongoing education for doping-free sports) in collaboration with the NOC*NSF in 2015. This programme describes the knowledge, skills and attitude needed for doping-free sport for all ages and development phases.
Education sessions in person
In line with these phases, the ADAN foundation developed three different education modules: Bronze, Silver and Gold. Bronze was designed as the first module and it serves as an introduction to the topic of doping. Silver focuses more on practising skills such as checking medicines and dietary supplements. During the Gold programme, the athletes are trained to work with difficult doping dilemmas that they may encounter during their careers such as suspicions that a teammate may be involved with doping or using approved medication purely and simply to perform better. Doping Authority Netherlands conducted a total of 83 educational sessions in person in 2019.
Table 1.1: Overview of education sessions for elite athletes

| Education module | 2015 | 2016 | 2017 | 2018 | 2019 |
| --- | --- | --- | --- | --- | --- |
| Bronze | 30 | 35 | 53 | 33 | 43 |
| Silver | 21 | 15 | 18 | 17 | 16 |
| Gold | 5 | 7 | 2 | 2 | 2 |
| Combination | 9 | 23 | 18 | 32 | 22 |
| Total | 65 | 80 | 91 | 84 | 83 |
E-learning platform
It is difficult to schedule education sessions in person for some groups of elite athletes. Nevertheless, it is important for these athletes to receive proper education as well. The ADAN foundation therefore launched an e-learning platform in March 2017. The Bronze, Silver, Gold and National Testing Pool modules were available for elite athletes on this platform. The National Testing Pool module is intended for elite athletes who have been included in the National Testing Pool by Doping Authority Netherlands. They must provide their whereabouts (accommodation and location data).
Table 1.2 Overview of completed e-learning modules for elite athletes

| Education module | 2017 | 2018 | 2019 |
| --- | --- | --- | --- |
| Bronze | 494 | 1,368 | 1,848 |
| Silver | 114 | 330 | 675 |
| Gold | - | 129 | 230 |
| National Testing Pool | - | 65 | 46 |
| Total | 608 | 1,892 | 2,799 |
A number of technical improvements were also made in 2019 for the purposes of the development of the e-learning platform.
Video productions and printed material
A new version of the video Tips for clean sport was produced in 2019. Changes were made at the same time to the corresponding Z card and poster.
Doping Information App
The first Doping Information App appeared in late 2013. The app was made for iOS and Android. There is also a responsive website. The Doping Information App allows athletes and support staff to check their medicines and dietary supplements, for example, or to check the most important doping regulations and read about the doping control procedure. The app was downloaded about 5,000 times in 2019. This is comparable with 2018. The total number of downloads was approximately 34,000 at year-end 2019. The Doping Information App is updated continuously. The app is also constantly promoted, for example in education sessions, on a range of websites, in various articles, Z cards and posters.
Be PROUD
Be PROUD is an initiative of the ADAN foundation and it focuses on strengthening the right sporting values. The programme was established in collaboration with NOC*NSF, elite athletes of the present and past, and trainers/coaches. It was launched in the summer of 2018. Athletes, family, coaches, medical staff, sports association staff and other sports enthusiasts are being invited to support Be PROUD, either as supporters or ambassadors. Sports organisations also have the option of being partners. In this way, a large and powerful team will be established that is proud of clean sports. The Be PROUD programme has its own website and social media accounts on Instagram, Facebook, Twitter and YouTube.
At the end of 2019, Be PROUD had 11 ambassadors. The five ambassadors who joined in 2019 are: Eva Voortman (softball), Margriet Bergstra (judo), Rogier Hofman (hockey), Sophie Souwer (rowing) and Steve Wijler (archery). The six other ambassadors are: Epke Zonderland (gymnastics), Jessica Schilder (athletics), Jetze Plat (handbiking/paratriathlon), Kai Verbij (skating), Madelein Meppelink (beach volleyball), and Vince Rooi (baseball).
The number of affiliated organisations (Be PROUD partners) rose from 23 to 26 in 2019. The number of supporters rose from 694 to 1182. To promote Be PROUD, postcards, mailboxes, roll-up banners, towels, pins and dart flights were developed in 2019. A communications agency was called in for advice about improving the use of social media.
Outreach Events
At outreach events, Doping Authority Netherlands is present with a stand at a sporting event in order to promote Be PROUD and to provide general information for large groups of elite athletes and support staff. There were four outreach events in 2019: at the KNBB Kling Masters/National Billiards Championships (12 January), the Dutch Darts Open (2 February), the FIH Pro League Grand Final (29 and 30 June) and the Asics National Athletics Championships (28 July).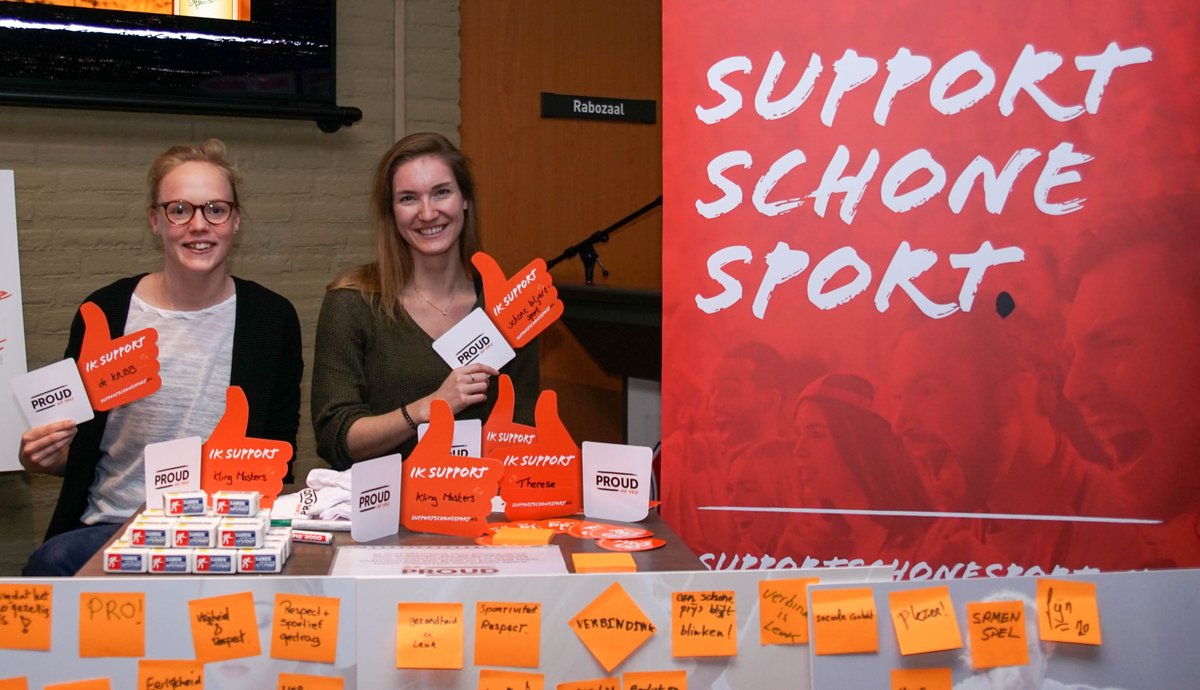 Dutch Safeguards System for Dietary Supplements in Elite Sport (NZVT)
Dietary supplements can contain prohibited substances that are often not listed on the label. The use of dietary supplements can therefore represent a risk for elite athletes since they can lead to a positive result after a doping control. In response to this risk, the ADAN foundation established the Dutch Safeguards System for Dietary Supplements in Elite Sport (NZVT) in 2003. The system allows manufacturers of dietary supplements to have batches of their supplements checked in exchange for payment. The 'clean' product-batch combinations are added to the NVZT database.
A total of 266 NZVT certificates were issued in 2019 (for 490 product-batch combinations), another new record. This indicates that the Dutch Dietary Supplements system (NZVT) is still catering to a significant need for athletes and their support staff. In total, on 31 December 2019, there were 1,259 product-batch combinations on the NZVT website representing 322 products, 54 brands and 16 substantive categories. Two batches were rejected because prohibited substances were found in them.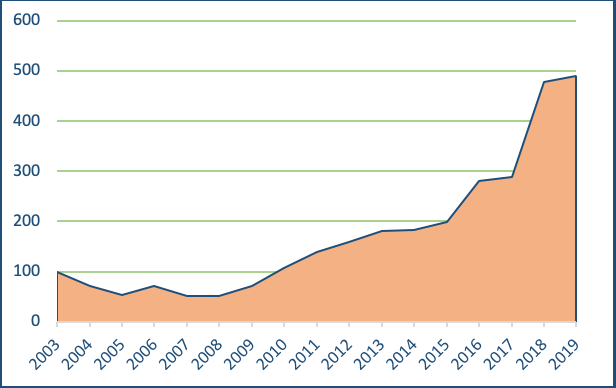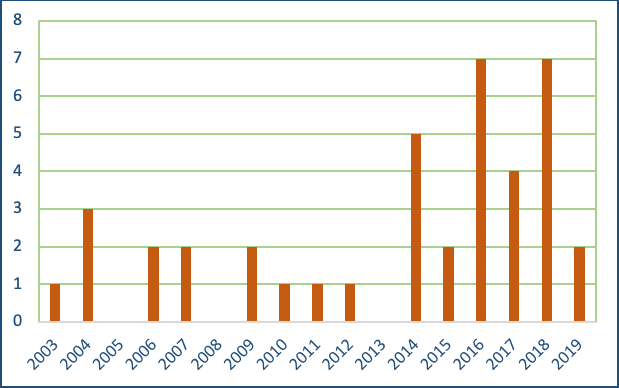 SUPPORT STAFF
Alongside the focus on athletes, there has been rising interest in support staff in recent years. This group includes, in particular, trainers and coaches but also people like doctors, physiotherapists, dieticians, masseurs, soigneurs, psychologists and parents.
Education sessions in person
A total of 21 education sessions in person were organised for support staff in 2019: 14 for trainers and coaches and 7 for other categories. The trainer-coach education sessions are based on the Ongoing Educational Module for Doping-Free Sport for trainers and coaches. The ADAN foundation developed three different education modules on the basis of that programme: Trainer-Coach 3, Trainer-Coach 4 and Trainer-Coach 5/Master Coach. The modules correspond to the training design of the Sport Qualification Structure. In 2019, 11 of the 14 training sessions for trainers and coaches were provided in this way; three were designed for specific groups. The seven education sessions for other groups of support staff were all designed for specific groups.
Table 1.3 Overview of education sessions for support staff

| Education module | 2017 | 2018 | 2019 |
| --- | --- | --- | --- |
| Trainer-Coach 3 | 3 | 6 | 3 |
| Trainer-Coach 4 | 3 | 3 | 3 |
| Trainer-Coach 5 / Master Coach | 2 | 5 | 4 |
| Combination | - | 1 | 1 |
| Customised module | 16 | 5 | 10 |
| Total | 24 | 20 | 21 |
E-learning platform
The ADAN foundation also developed e-learning modules for support staff. Support staff completed 81 fewer modules in 2018 than in 2019.
Table 1.4 Overview of e-learning modules completed by support staff

| Education module | 2018 | 2019 |
| --- | --- | --- |
| Trainer-Coach 3 | 145 | 108 |
| Trainer-Coach 4 | 102 | 60 |
| Parents | 32 | 24 |
| Medical and paramedical support staff | 8 | 14 |
| Total | 287 | 206 |
Videos
Doping Authority Netherlands has made contributions to the production of three NOC*NSF videos on sports ethics for coaches. The videos are about dilemmas relating to 'grey areas'. The videos will be released in 2020 by the NOC*NSF in combination with a book on sports ethics. The video rights belong to both the NOC*NSF and Doping Authority Netherlands.
SPORTS ASSOCIATIONS
The sports associations are also an important target group for Doping Authority Netherlands. They are closest to the elite athletes and the support staff. Doping Authority Netherlands is in contact with the sports associations at all times.
Meeting of sports associations
The Support Clean Sport meeting (formerly known as the Association meet / Together against Doping meet) was organised for the tenth time on 10 October at the NBC location in Nieuwegein and it was attended by approximately 37 people representing sports associations, RTOs (Regional Elite Sports Organisations) and CTOs (Centres for Elite Sports and Education). The aim of the annual meeting is to catch up on developments in the field of anti-doping, and particularly in the field of education.
The average rating for the event from the participants was 7.7/10.
E-learning platform
In 2018, the ADAN foundation developed the e-learning module Sports Associations for the sports associations. The module was completed 16 times in 2019 (2018: 17 times).
NOC*NSF National Coach Platform
The NOC*NSF organised a National Coach Platform on 19 October 2019 dedicated to ethics in sport. The aim was to enhance ethical awareness among coaches. Doping Authority Netherlands contributed to the programme. The platform was attended by about 100 coaches.
FITNESS
The goal for fitness (sports organised outside a club context) is: preventing or discouraging deliberate and inadvertent doping use by athletes in Dutch fitness centres. There is also a focus on harm reduction: reducing the health risks associated with doping.
In the fitness world, Doping Authority Netherlands focuses in particular on the people in the fitness centres: the athletes themselves but also the instructors (with whom we establish contact primarily through the various fitness courses) and the owners. Doping Authority Netherlands organised communications for this target group on the basis of the True Strength programme. The book Doping, the sober facts is the only work to be published directly under the auspices of Doping Authority Netherlands rather than under the True Strength banner.
Own Strength programme
There are 3 million fitness adherents in the Netherlands. Fitness is therefore the most popular sporting activity in the Netherlands. However, a survey in 2009 showed that 8.2% of fitness athletes use prohibited substances. This is, in principle, permitted because these people are not subject to doping regulations. However, the use of prohibited substances still harms health and it also has a negative effect on the image of the fitness branch itself and so it is desirable to reduce levels of doping in fitness centres. The ADAN foundation therefore decided to develop the education programme True Strength specifically for this group in order to provide information about the risks of using anabolic steroids and other prohibited substances, and about healthy alternatives for building muscle or losing weight using True Strength. The aim is to raise levels of knowledge and awareness. The values and norms for sports in line with True Strength are also confirmed.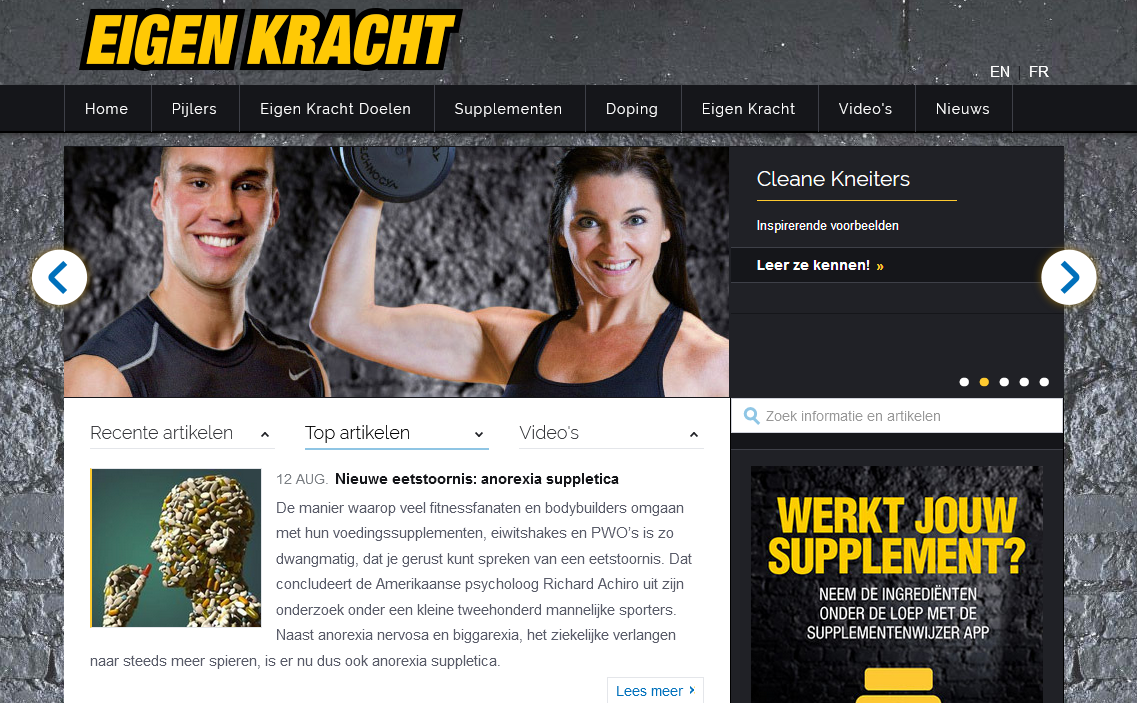 True Strength website
The True Strength website plays a central role in the programme. It provides objective, clear and practical information about how to build up muscle mass cleanly and effectively, and about sound ways of losing weight. There is also objective information about various types of prohibited substances and the side-effects, and the doping risks of dietary supplements are discussed.
In 2019, a total of 55 factual news reports were posted on the site. They were written by three external experts (journalists or specific experts) from the fitness/bodybuilding branch and by our own education officers. Twenty-five short texts (200 words per text) were written and ten illustrations were made for new passages in the regular content of the website.
True Strength book
The ADAN foundation completely rewrote the True Strength book in 2018. The book complements the True Strength website and the Supplement Checker App. It was promoted persistently in 2019 on the website and at meetings.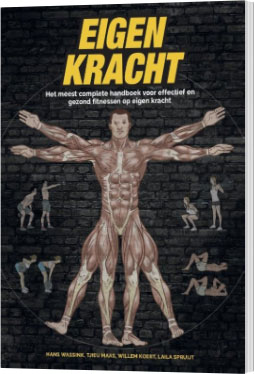 True Strength day
Doping Authority Netherlands organised the second True Strength day on 19 May 2019. The True Strength day was initiated as a way of inspiring fitness professionals. Presentations and workshops show the professionals that enormous gains can be made in the area of proper (and therefore clean) support. The day was organised at the NBC conference centre in Nieuwegein. It was attended by approximately 80 professionals. The average rating for the event from the participants was 8.3/10.
Table 1.5 Overview of the speakers at the True Strength day

| Speaker | Presentation / Workshop |
| --- | --- |
| Luuk Hilkens | High-frequency training |
| Hans Kroon | Mastering movement |
| Melanie Knufinke | Invest in your rest |
| Chi Lueng Chiu | Changing behaviour |
| Hans Wassink | The dark side of fitness |
| Sandra van de Kamp | Natural bodybuilding |
Supplement Checker App
The ADAN foundation launched the Supplement Checker App in August 2017 under the True Strength banner. The market for sports supplements has grown explosively in the past decade. Nearly 60% of fitness athletes in the Netherlands use supplements. Elite athletes also use many supplements. The free Supplement Checker App helps athletes to use supplements responsibly and critically. The heart of the app is a discussion and assessment of more than 3,000 ingredients. The app has been downloaded 3,841 times in one year (2018: 4,134). The Supplement Checker App was maintained continuously and expanded in 2019. In 2019, Doping Authority Netherlands wrote 116 new profiles for the Supplement Checker App. Some profiles were also amended on the basis of new insights.
Guest lectures and meetings
The Doping Authority gave 8 guest readings (2018: 6) at various fitness institutions in 2019. In addition, a presentation was given twice on the 'Evolution of Bodybuilding': on 11 April during a book presentation by Liesbeth Woertman (Professor of Psychology, Utrecht University) and on 25 April during a meeting on 'harm reduction' organised by Mainline and the fitness company Muscle Totaal.
Outreach Events
During outreach events, True Strength is present with a stand at a fitness event in order to provide general information for large groups of elite athletes and support staff. True Strength was at the INBA on 20 April. The INBA is an American natural bodybuilding association that has a representative association in various countries. On 8 December, True Strength was at the Strength and Physique (SAP) Cup in Veldhoven. This is a power sports event with various bodybuilding and fitness competitions. In addition, True Strength visited the Fitfair with a number of Clean Hunks (ambassadors) to see whether it would be useful to attend this fair to present True Strength.
Theme videos from Back in balance documentary
The documentary Back in balance - the evolution of women's bodybuilding appeared in 2017. The documentary shows the new path that bodybuilding for women took a few years ago. New criteria and a range of new categories have been introduced to bring back 'femininity' to the sport. Eight additional theme videos were produced in 2018 using the uncut film material and posted on our YouTube channel.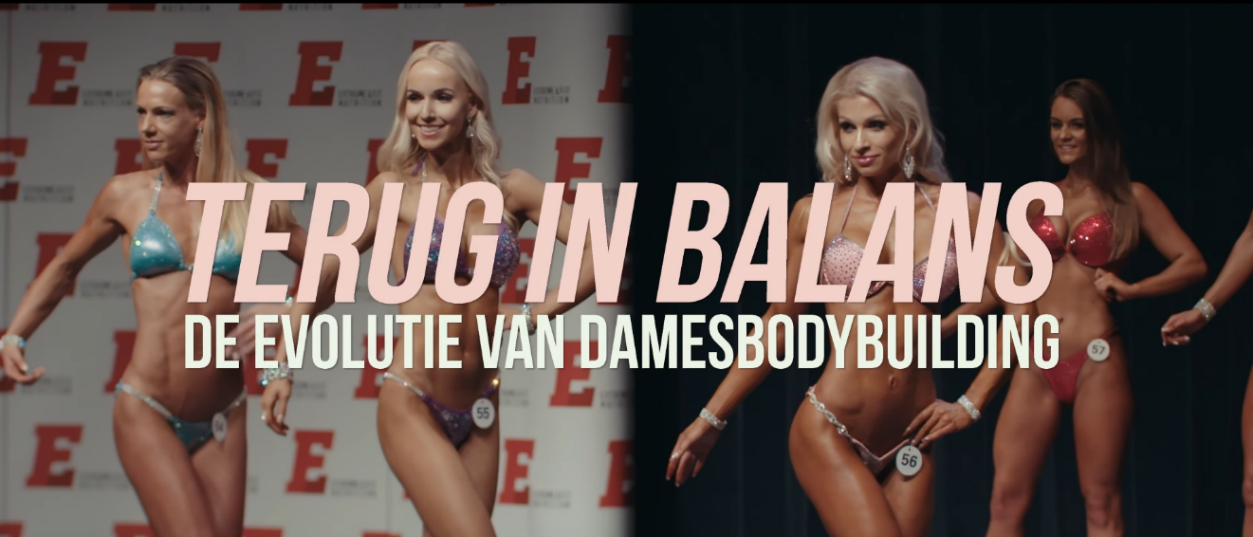 Clean Hunks
Clean Hunks are fitness athletes/body builders who have demonstrated that you can build up an impressive physique without dope. They are the ambassadors for doping-free fitness. There were 19 Clean Hunks affiliated with the True Strength programme in 2019. They are all on the site, which includes background stories and photos.
Written contributions
Doping Authority Netherlands has contributed to the new course book of NL Active, Fitness Trainer Level 3. In addition, two contributions were made to the website of fitness trainer EFAA.
Book: Doping, the sober facts
Doping, the sober facts was published in October 2014. It provides the reader with a thorough overview of the substances currently used in fitness and bodybuilding. As much relevant scientific information as possible has been collected about the effects and side-effects of anabolic steroids, growth hormones, insulin, appetite-suppressing amphetamines and many other prohibited substances. There are also reports about the experiences of users in practice and knowledge from the doping world itself. The emphasis here is on information that is often swept under the carpet in these circles. There is still a lot of interest in the book. It is published by Arko Sports Media.
Dopinginfo.nl
In 2019, Doping Authority Netherlands started on the development of a new website: Dopinginfo.nl. The website is a database for prohibited substances and the aim is to provide policymakers and health professionals with a source of information. The website has not yet been launched.
GENERAL PUBLIC
Corporate website
The corporate website of Doping Authority Netherlands is www.dopingautoriteit.nl. We contributed 21 press releases of our own to the site in 2019 (2018: 20). ANP news reports are also an important component of the information we supply. Approximately 229 ANP news reports were published (automatically) on the site in 2019. That is less than in 2018 (287).
Doping Information Line
The Doping Information Line is the front office for all questions (by email/WhatsApp) relating to doping. It is staffed by teams of four working in turn. All questions are processed within one working day and recorded anonymously in a database. The email address is dopingvragen@dopingautoriteit.nl. The mobile number, 06-11226200, is reserved exclusively for WhatsApp. Calls are not answered.
A total of 661 emails were received in 2019. That is 3% less than in 2018, when there were 678 registered emails.
In addition, the numbers of questions per subject are also monitored. Individual questions could be allocated to several subjects. The percentages for each subject can be found in the table below. As in previous years, two subjects stand out: checking whether a medicine is on the prohibited list (28.6%) and questions about dietary supplements (30.7%).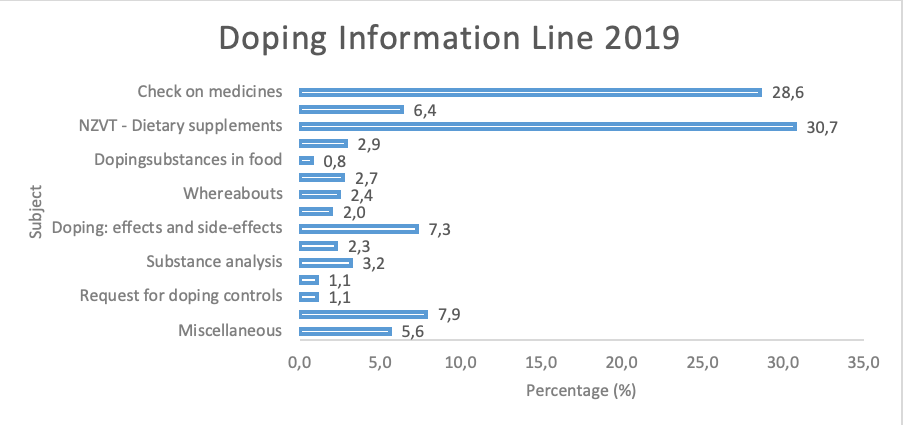 Club sports and elite sports accounted for 74% of the emails, fitness for 10%, and other sectors for 15%. There were two reports of possible anti-doping rule violations, a representative of the press sent an email on three occasions, and three emails related to an athlete who was found positive. Questions received through WhatsApp (246) accounted for 37% of the total.
Social media
Doping Authority Netherlands is active on YouTube, Facebook, Twitter and Instagram. The aim is to reach the target groups better and therefore raise their awareness of the rules, rights and risks. We post, among other things, news items from the corporate website, educational videos and photos of education sessions.
Press conference
Doping Authority Netherlands organised a press meeting at the NBC in Nieuwegein on 8 February 2019. Topics covered included the Russian doping scandal, the revision of the World Anti-Doping Code, the introduction of the Anti-Doping Policy Implementation Act (Wuab), the related establishment of the independent administrative body Doping Authority Netherlands, the media policy of Doping Authority Netherlands and the policy relating to the Dutch Government Information (Public Access) Act (Wob).
Press contacts
Once again in 2019, Doping Authority Netherlands was approached hundreds of times by journalists with questions about the anti-doping policy, background matters and all kinds of concrete doping cases and problems. Particularly in the early months of the year, many of those questions related to the Russian doping scandal. Other subjects that stood out were the false-positive test involving swimmer Kira Toussaint, and the anti-doping policy in kick boxing. The CEO of Doping Authority Netherlands acted as the spokesperson, with the COO of Doping Authority Netherlands standing in for him when he was absent.