The overall goal of the Prevention department is: the prevention of inadvertent and deliberate doping infringements in Dutch sport.
Sports organised outside a club context (in other words, the fitness sector) have no doping regulations and therefore no doping infringements. The goals are therefore formulated from the perspective of public health and they are as follows: the prevention of deliberate and inadvertent doping, or the prevention of harm to health or additional harm caused by doping (harm reduction).
The main target groups are:
elite athletes (including elite athletes of the future);
athletes and fitness professionals in sports organised outside a club context (fitness);
support staff (in particular trainers/coaches, sports doctors and GPs, physiotherapists, dieticians, masseurs and parents);
sports associations;
the general public.
Information activities in the context of sports organised in a club context cover the doping regulations and the risks of doping. In addition, healthy and legitimate alternatives to improve performance are discussed, and efforts are made to foster or reinforce an anti-doping attitude among athletes.
Since 2015, information for elite athletes in particular has been structured using the Ongoing Educational Module for Doping-Free Sport (DLDS). The DLDS describes the knowledge, skills and attitude needed for doping-free sports for all ages and development phases. In line with these phases, three different types of information have been developed for athletes: Bronze, Silver and Gold.

Bronze (±15 years) is an introduction to the topic of doping. The topics covered here are the doping regulations, doping controls and the risks of inadvertent doping.

Silver (±17 years) focuses more on practising skills. It is assumed that the information from bronze is known, and the focus is more on practical matters. There is, for example, an opportunity to practice using the Doping Information App.

Gold has been designed specifically for elite athletes with a whereabouts-obligation. This category discusses the whereabouts regulations in detail but also looks at awkward doping dilemmas that athletes encounter, such as doping infringements by other members of a team, or using medicines to perform better.
Meetings for support staff cover the same issues as those discussed with athletes, but also focus on the rights and, above all, the obligations of support staff, as well as factors that exacerbate or mitigate the risk of doping.
The target groups in sports organised outside a club context consist primarily of fitness athletes and fitness professionals. A website, articles and books have been produced for the fitness athletes. In addition to the website and books, the main information activity for the fitness professionals target group consists of guest talks at the various fitness centres. These talks look at the different types of doping, the risks of use, the way the substances work and the side-effects, fact and fiction relating to supplements, doping prevention and the Own Strength programme. There is also a focus on harm reduction: reducing the health risks associated with use.
The corporate website (www.dopingautoriteit.nl) and the websites www.dopefree.nl and www.eigenkracht.nl are important ways of communicating with the various target groups. Anyone with doping-related questions can send an e-mail to the Doping E-mail Line. Answers are sent within one working day.
Elite sports
In addition to the 100% Dope Free programme, a lot of effort went into the Racing for clean sport action plan in 2015. The plan was initiated in response to the recommendations of the Anti-Doping Approach Commission. The principal mission was as follows: to strengthen the anti-doping culture in cycling. The plan was implemented in collaboration with the KNWU and NOC*NSF and subsidised by the Ministry of Health, Welfare and Sport. It ran from early 2014 to the autumn of 2015.
100% Dope Free
All information activities focusing on Dutch elite sport have now been transferred to the 100% Dope Free programme, which is based on, among other things, periodical surveys of Dutch elite athletes. Those surveys show that the vast majority of elite athletes are opposed to doping. In addition to providing information, this programme focuses on reinforcing and changing attitudes and behaviour.
This website underwent a drastic overhaul in 2015. To make the site easier to find, the name was changed from www.100procentdopefree.nl to www.dopefree.nl. In addition, the entire site was redesigned and made responsive. The site plays a central role: everything can be found here. Seventeen news reports were published in 2015. The reports are sent immediately to all subscribers (numbering about 14,500).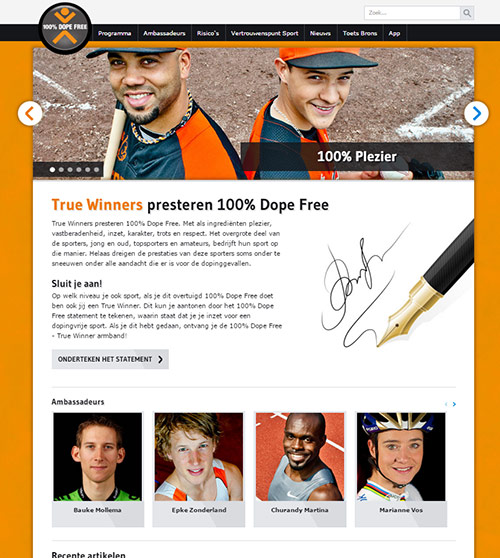 100% Dope Free - True Winner
This part of the programme (which began in December 2007) gives elite and competition athletes the opportunity to sign an anti-doping statement and to adopt an active stance in favour of clean sports. Once they have signed the statement, the athletes receive the gold wristband to symbolise the fact that you are only a true winner if you perform without doping. The number of signed statements increased from 29,500 to 30,600 in 2015 (+1,100).
This component was developed and implemented in collaboration with the NOC*NSF Athletes Committee. The programme's ambassadors already included: Femke Dekker (rowing), Carl Verheijen (speed skating), Richard Bottram (marathon 365 & Wheel of Energy), Epke Zonderland (gymnastics), Mirjam de Koning-Peper (swimming), Thijs van Valkengoed (swimming), Churandy Martina (athletics), Marianne Vos (cycling), Vince Rooi (baseball) and Bauke Mollema (cycling). They were joined by another two ambassadors in 2015, who introduced themselves in a video: Madelein Meppelink (beach volleyball) and Jetze Plat (handbiking/triathlon). Our ambassador Jokelyn Tienstra passed away in late 2015.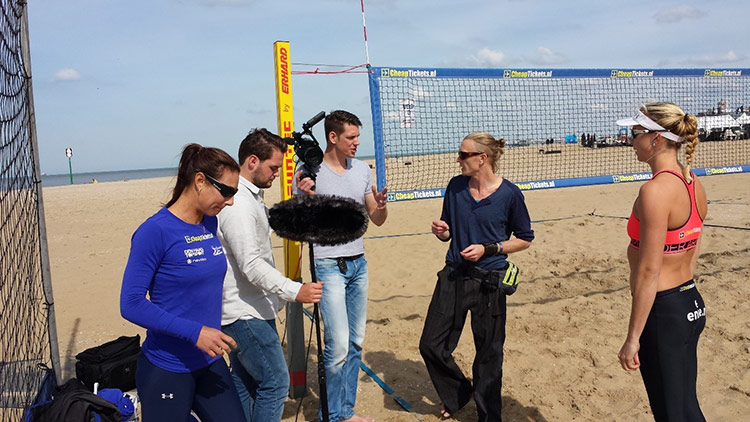 Information meetings
The Ongoing Educational Module for Doping-Free Sport was introduced in 2015. Agreements have been made with various associations about which information (bronze, silver or gold) is most appropriate for which groups of athletes. As a result, there was a sharp increase in the number of information meetings in 2015 (+81%) to a total of 65 (2014: 36).
Furthermore, a digital test was developed and used for the bronze information level. The test consists of 10 true/false questions and it is used to test what the athletes have learnt at the end of a bronze information meeting. During the test (on smartphones or tablets), the scores can be followed live on a large screen. The test can also be completed separately on www.dopefree.nl/toetsbrons.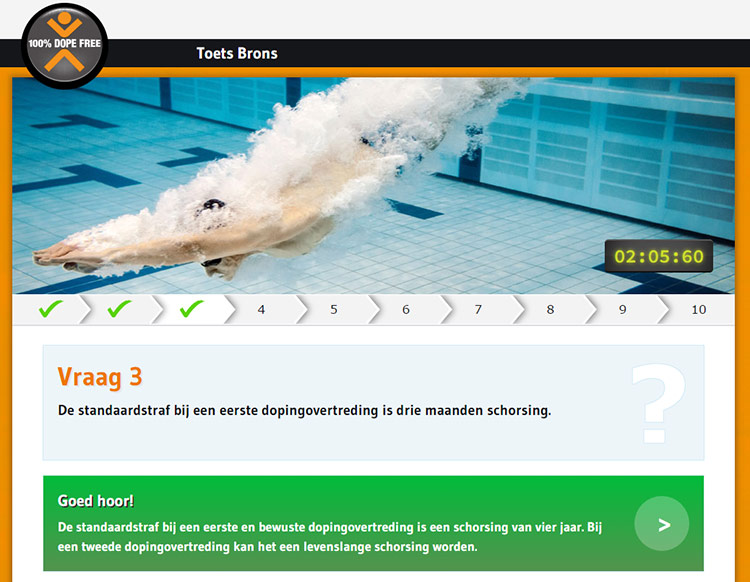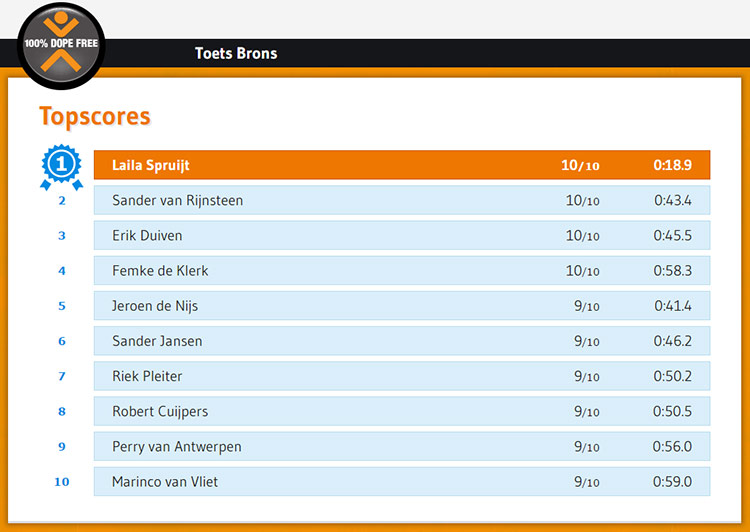 Outreach Events
Nine outreach events were organised in 2015 (2014: six). The idea is to deliberately target events/competitions where large groups of athletes (particularly young and talented athletes) and their parents and trainers/coaches are given general information and where they can put questions to the Doping Authority. There is also an opportunity to sign the 100% Dope Free – True Winner statement. By completing the WADA doping quiz, it is possible to win an incentive. Outreach events in 2015 took place at: the ice hockey world championships (2 days), the Jiu Jitsu European championships (2 days), the national youth and junior swimming championships, the national youth athletics championships, the beach volleyball world championships (2 days), the angling world championships, the EYOF team presentation, the national triathlon sprint championships, and the 2016 Paralympic Games participants' meeting.
Articles
A topical doping issue is discussed in each issue of the NOC*NSF elite sports magazine Lopend Vuur. Eight articles in all were published in 2015.
Doping Information App
The Doping Information App (iOS and Android) appeared in late 2013. There is a responsive website for other systems: www.dopingwaaier.nl.
In addition to the content of the paper copy of the Doping Fan Booklet, the app also makes it possible to check all medicines registered in the Netherlands to see whether they contain prohibited substances or not. The app can also be used to view the Dietary Supplements list (NZVT). This all makes access to the information in the app simpler, cheaper and faster.
The Doping Information App became available in late December 2013. The total number of downloads in late 2014 was 8,396, and 13,157 a year later. There were therefore 4,761 downloads in 2015.
The Doping Information App was updated in late 2015. The menu was extended and the search features for the medicines and the NZVT list were improved.
To keep the Doping Information App in the public eye, it is brought to the attention of the numerous target groups with a z card, in digital advertisements and at information meetings.
Racing for clean sport
The Anti-Doping Approach Commission - better known as the Sorgdrager Commission - published its report in June 2013. In the report, the Commission made a range of anti-doping recommendations for cycling and elite sports in general. At the request of the Ministry of Health, Welfare and Sport, an action plan was developed for 2014-2015 with the aim of strengthening the cultural change that was already in progress. The project partners were the KNWU, NOC*NSF and the Doping Authority. The name of the project was: Racing for clean sport (Koersen op een schone sport). A large part of the project is specific to cycling but there are also components that relate to other sports. Racing for clean sport comprises five components: raising awareness, openness, trainers & support staff, international cycling and doping controls. The activities in each component in 2015 were:

Raising awareness
The video made previously with Rudi Kemna (a former professional road cyclist and now team manager at Giant-Alpecin) about a changed doping culture now has English subtitles.
An Ongoing Educational Module for Doping-Free Sport (DLDS) has been developed with the NOC*NSF. This educational module comprises a programme of eight years covering the transformation from promising talent to elite athlete. A number of themes and concrete objectives were formulated as a basis for ascertaining what can be expected from young talented athletes. The content was subdivided into three information components: bronze, silver and gold. The DLDS was launched in 2015.
During the course of 2014, we worked on the 100% Dope Free Challenge, an on-line game for all members of the Royal Dutch Cycling Union: http://www.koersschoon.nl/challenge. It describes dilemmas in five short videos, requiring the players to make a decision about each dilemma to pick up points. It was possible to play as an individual or as a cycling club. The aim of the challenge was to get people to think about the decisions made in doping-related matters. The challenge was open in March and April of 2015. During that time, it was possible to follow the rankings on the website. This was also intended to boost participation. In the end, 1,054 of the 22,810 people invited actually participated in the challenge, a response rate of 5%. Two-thirds of the associations (150 in total) participated.
All the participants were invited to the Race Clean Experience Day (KSED) on Saturday, 12 September 2015 at Papendal. The participants (a maximum of 150) were given information on that day about doping prevention and also about the innovative and clean ways available to cyclists to improve performance. The second activity was organised by the World Tour Team Giant-Alpecin and the KNWU. In the end, it was a very successful day for the participants and organization. Click here for an impression of the day.
The project ended on 1 October and a joint final report was produced.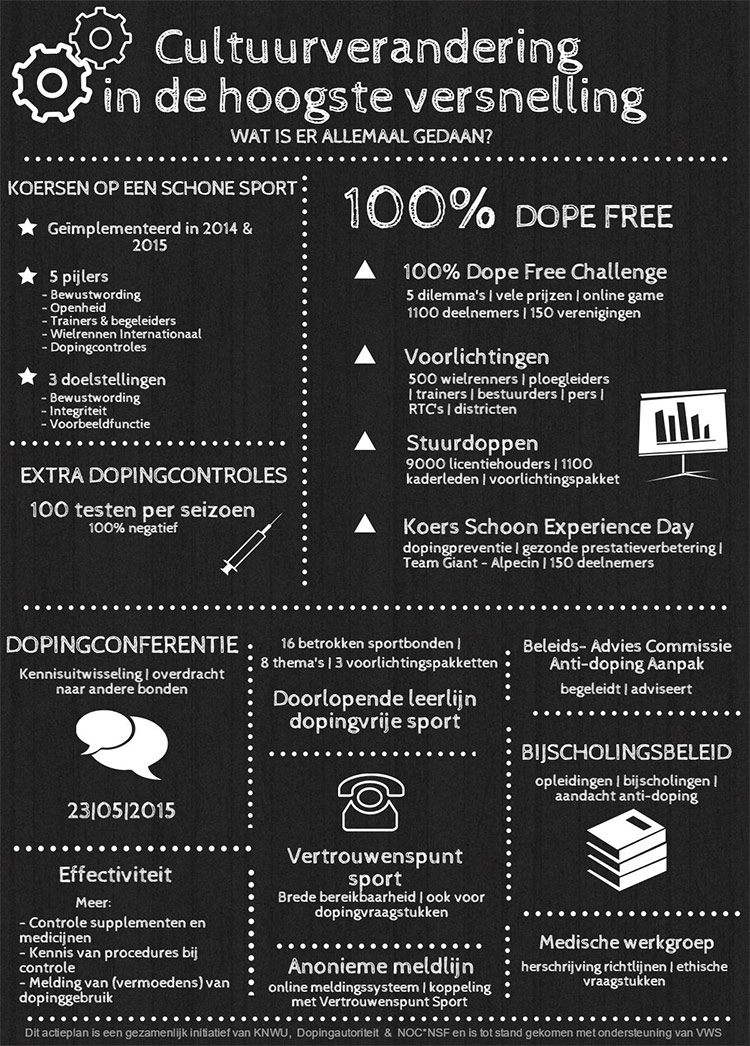 Doping controls
As in 2014, extra doping controls were conducted again in 2015 at a slightly lower level and in a slightly younger target group than usual. These doping controls were mainly intended to have a preventive effect. It is important for people to be aware of doping controls earlier.
Together for clean sport
At the National Doping Conference on 23 April 2015, Minister Schipper granted financing amounting to €300,000 for a follow-up to Racing for clean sport. Six organisations then drew up an action plan: the Dutch Athletics Union, the KNBB (billiards), the KNVB (football), Fit!Vak, the Doping Authority and the NOC*NSF (the coordinator). The plan was given the name: Together for clean sport. The subsidy application for the action plan was approved in late 2015.
Therapeutic Use Exemption Committee (TUE committee)
There were almost no amendments to the regulations relating to exemptions between 2015 and 2014.
In the end, exemptions were granted in 99 cases. Requests were not granted in eight cases.
Table 1: Handling of Therapeutic Use Exemptions in 2015

| | 2010 | 2011 | 2012 | 2013 | 2014 | 2015 |
| --- | --- | --- | --- | --- | --- | --- |
| Granted | 140 | 111 | 82 | 89 | 88 | 99 |
| Not granted | 12 (7.9%) | 8 (6.7%) | 1 (1.2%) | 4 (4.3%) | 6 (6.4%) | 8 (7.5%) |
As in recent years, most exemptions in 2015 related to the use of methylphenidate (44). As a percentage, this is 44.4%, which is similar to 2014.
Another type of medication for which exemptions were often granted was prednisone/prednisolone (14.1%) and insulin (13.1%).
As a whole, the applications came from 33 different sports associations.
The Royal Dutch Cycling Union was at the top of the list again (20.2%), followed by the Royal Netherlands Swimming Association (13.1%), and the Athletics Union and the Royal Dutch Football Association (both 6.1%).
Sports organised outside a club context
Own Strength programme
The main target group in sports organised outside a club context consists of: visitors to fitness centres and their immediate circles. The latter category consists primarily of fitness instructors but also entrepreneurs.
www.eigenkracht.nl
The Own Strength website plays a central role. Alongside text, videos are being used more and more. In addition, there are four full annual programmes for four different training goals. The site has also been made more user-friendly by classifying postings under headings such as training, diet, supplements, doping, health etc. This makes it easier for visitors to find extensive information about specific topics. The website has now been on air for 15 years and it has become a reliable and rich source of information for many. The site was restyled in 2014 and Own Strength was given a different house style. A new design has also been made for the T-shirts and water bottles.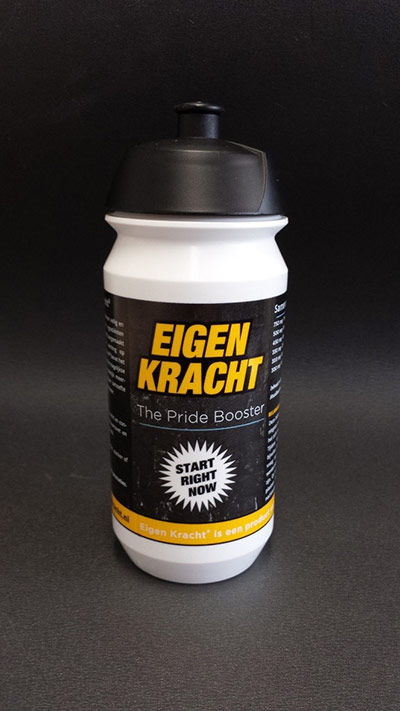 The site specifically targets athletes/cosmetic athletes in fitness centres. It provides objective, clear and practical information about how to build up muscle mass cleanly and effectively, and about sound ways of losing weight. There is also objective information about various types of listed prohibited substances and the side-effects, and the doping risks of dietary supplements are discussed.
In 2015, a total of 54 factual news reports were posted on the site. They were written by two external experts (journalists or specific experts) from the fitness/body-building branch and by our own prevention officers. One was a warning about supplements that had been deliberately contaminated with prohibited substances and about which the Dutch Food and Commodities Authority (NVWA) had also issued a warning. The NVWA withdrew these supplements from the market.
Videos
Own Strength has been using videos for some time. Four videos were produced and posted on the website in 2015: three training instruction videos with leading strength coach Hans Kroon and a video with two Clean Hunks (Jurgen Verweijen and Stefan Köhlbrugge).
Work also began on a video about the future of bodybuilding and, above all, the declining role of doping in that sector. The video Bigger than big: the evolution of bodybuilding? will appear in March 2016.
Fitness courses & meetings
In 2015, the Own Strength programme included thirteen guest talks at numerous educational institutes and private fitness institutions. The Own Strength water bottle was handed out during those talks to trainee fitness instructors. In addition, there were two presentations for the Haaglanden police sports association and an information meeting in Werkendam for police officers, a municipal youth worker and an addiction officer. One information meeting was arranged in a fitness centre and two in a university sports centre.
Clean Hunks
Clean Hunks are fitness athletes/body builders who have demonstrated, and continue to demonstrate, that you can build up an impressive physique without dope. Three more Clean Hunks joined the campaign in 2015, bringing the total to 17. They are all on the site, which includes background stories and photos. The Clean Hunks are the ambassadors for doping-free fitness.
Articles
Since 1997, Own Strength has had a regular column in the popular bodybuilding magazine Sport & Fitness Magazine. Acting under its own editorial responsibility, the Doping Authority again supplied objective information in each issue about prohibited substances and related matters. Since 2014, the approach has been to place several short reports in each issue rather than one large article. This approach was seen in all six issues in 2015.
Since August 2015, Own Strength has been publishing short posts in the monthly bodybuilding & fitness magazine Muscle & Fitness. They are also posted on the website www.eigenkracht.nl after the magazine has been issued.
An article entitled I'll do it myself by my own strength! (Ik doe het lekker zelf, op eigen kracht!) was printed in School Magazine. The magazine is sent to 600 secondary schools and it has a readership of about 200,000 students. In addition, a special Own Strength poster was hung up at every school that participated.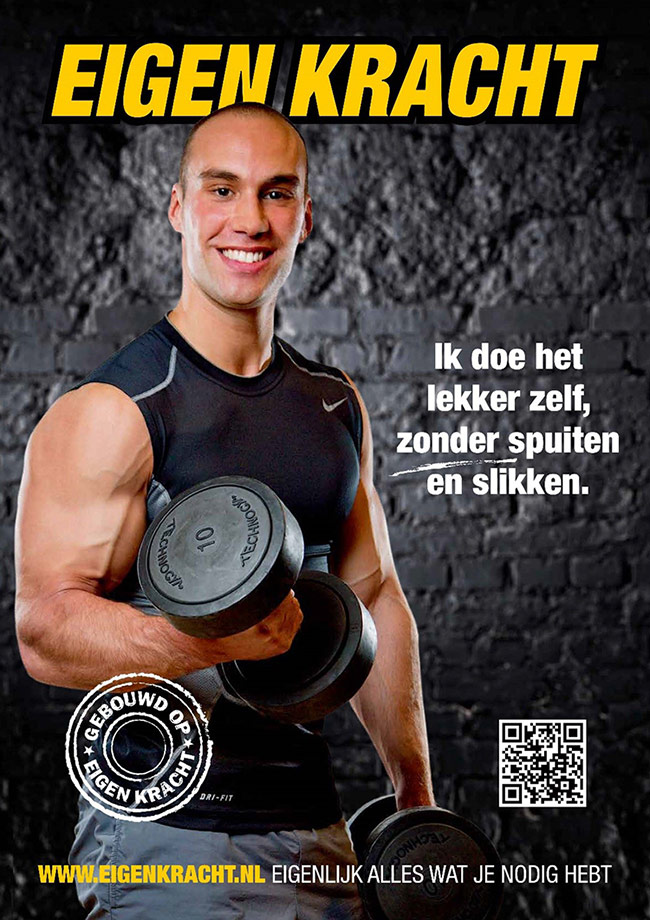 Advertisements
Two new banners/advertisements were produced in 2013 portraying two Clean Hunks (a man and a woman), who are also the face of the new website. After the publication of Doping, the sober facts, an advertisement was also produced for that book. These three advertisements appeared in 2015 on several occasions in Sport & Fitness, Muscle & Fitness, and Fit!vak magazine.
Book: Doping, the sober facts
Doping, the sober facts was published in October 2014. The book was then promoted in advertisements in body-building magazines and the magazines of Arko Sports Media, in an extensive two-page review of the book in the sports issue of Medical Contact (July 2015), on a banner at outreach events and at information meetings. The first edition was sold out in 2015 and a second unamended edition has now been published.
Supplements App
Work started on the design of the supplements app in 2015. Fitness athletes, and also other athletes, have more and more questions about the facts and fiction relating to all kinds of nutritional supplements. The app will also supply extensive information about supplements, the risks of supplement use, nutrition and regulations, and, above all, the possibility of checking supplements on the basis of the ingredients. The app will be launched in 2016.
Support staff
In addition to the focus on athletes, there has been an increasing emphasis in recent years on a range of athlete support staff. They can play an important role in a positive sense. Trainers and coaches in particular can play an important role. Sports doctors and paramedics are also important. As well as supplying materials, we also gave guest talks for courses and refresher training.
Brochure for Support Staff
The brochure, entitled About support: how parents, trainers, coaches and other support staff can contribute to dope-free sports continues to be distributed widely at information meetings, training and refresher training and at outreach events.
Because the Doping Information App is also an important source of information for support staff, it was also promoted again more in 2015. Several advertisements were posted in the magazines Sportgericht and Sportmassage Internationaal.
Coaches
There were a number of presentations at a range of coach courses and refresher training events, such as: cycling coach level 3, swimming coach level 4, national angling association coaches, the Master Coach course in Heerenveen, the general trainer/coach 4 course in Amsterdam and Zwolle and the minor in sports coaching at the ALO in Amsterdam.
An incentive was developed for coaches: the Coach Negative Coaching Folder. It is handed out to students at training institutions.
Medics/paramedics and other support staff
There were presentations at various courses such as the Sports Physiotherapy course (2x), the sports massage Knowledge Day, two Sports Dietician courses (in Amsterdam and Nijmegen), the KNWU course for team managers and soigneurs, Sports Psychology at the University of Nijmegen, two presentations at refresher courses for general practitioners, a refresher course for paediatricians, a guest talk for medical students at Amsterdam Medical Center, a guest lecture for students of Chemistry & Crime at the Rotterdam Hogeschool, a refresher course for medical support staff working for Topsport in The Hague, and a guest lecture for first-year students of Movement Sciences (VU-University of Amsterdam).
Sports associations
National Doping Conference
The National Doping Conference was organised at Papendal on 23 March in response to an initiative from Minister Schippers. The conference included a review of the results of the campaign Racing for clean sport and an appraisal of what more is needed in the quest for a doping-free sports culture that would also include the fitness industry. On the basis of the discussions at the National Doping Conference, an animation was produced by the Ministry of Health, Welfare and Sport, NOC*NSF, the Doping Authority and the KNWU entitled: A doping-free sports culture in the Netherlands.
Meeting of sports associations
The annual meeting for the staff of sports associations Samen tegen doping! (Together against doping!)was organised for the sixth time. It took place on 22 October 2015 in Nieuwegein and approximately 60 people attended. They were representatives of sports associations (and, specifically, the association medics), RTOs (Regional Elite Sports Organisations) and CTOs (Centres for Elite Sports and Education). There were six presentations. The aim of the annual meeting is to catch up on developments in the field of anti-doping policy. The primary focus is on prevention. The programme included the following speakers and topics: Herman Ram discussed developments in the anti-doping policy and Accused! What now?, Erik Duiven provided an update on the elite sports projects, Tineke Idema discussed Intelligence & Investigation, Laila Spruijt talked about the implementation of the Ongoing Educational Module for Doping-Free Sport, and Margo de Vries (KNWU) and Laurens de Ouden (NOC*NSF) looked respectively at Racing for clean sport and Together for clean sport. The event was evaluated by means of a digital survey of the participants. The participants found the day to be useful/very useful.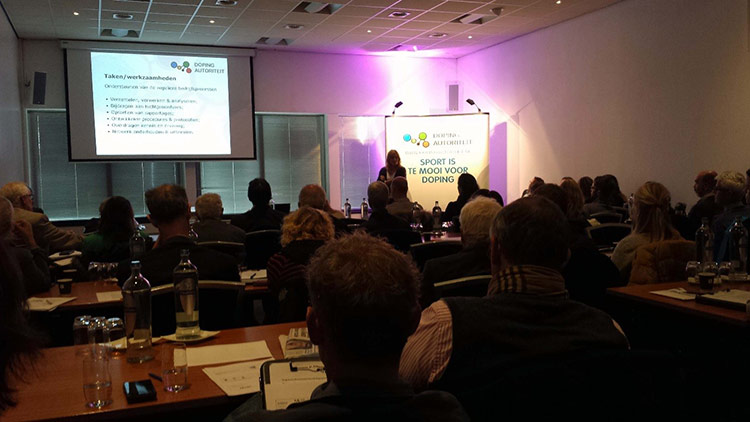 General public
www.dopingautoriteit.nl
We contributed seventeen reports of our own to the site in 2015. In addition, ANP news reports make up an important part of the topical information. They are posted automatically after they appear on the website. Approximately 413 ANP news reports were published on the site in 2015 (2014: 339). In particular, the first WADA report in November about the IAAF and Russia generated a lot of traffic.
In addition to current news about doping, the site provides general information about the prohibited list, about the programmes being conducted by the Doping Authority and about our own organisation. Athletes can turn to a separate service section to apply for therapeutic use exemptions, and there is a section where elite athletes can submit whereabouts information. This section also houses the Dutch dietary supplement database.
Doping E-mail Line
The Doping E-mail Line is the front office for questions about doping and it is manned by four operators working at different times. All questions are processed within one working day and recorded anonymously in a database.
E-mails were registered differently in 2015 than in previous years. For example, in a break with the past, follow-up questions were also counted. A total of 698 e-mails were registered in this way in 2015. Excluding the follow-up questions results in a total of 601, 11% less than in 2014 (676). It is reasonable to assume that this fall can be explained by an increase in the use of the Doping Information App, which is an easy way for athletes and coaches to check medication and obtain answers to questions. The increase in the use of the Doping Information App is also demonstrated by the number of questions asked using the App. This happened about 23 times in 2014, but 71 questions were asked through the App in 2015, more than three times as many.
Furthermore, numbers of questions per subject were also monitored. Individual questions could be allocated to several subjects. The numbers and percentages can be found in the table below. Club sports and elite sports accounted for 64% of the e-mails, fitness for 7%, and other sectors for 29%. There were eight reports of possible doping infringements, a representative of the press sent an e-mail on six occasions, and seven e-mails related to an athlete who was found positive. Two subjects stand out: checking whether a medicine is on the prohibited list, and questions about dietary supplements. Both accounted for about 26% of the questions. Just under 10% of the e-mails were questions from schoolchildren or students.
Subject
1.
Check on medicines
2.
TUE - Exemption procedure
3.
NVZT - Dietary supplements
4.
Drugs
5.
Contaminated meat
6.
Doping control procedure
7.
Whereabouts
8.
Doping regulations, miscellaneous
9.
Doping: effects and side-effects
10.
Diet, not dietary supplements
11.
Substance analysis
12.
Mental
13.
Request for information / materials
14.
Request for doping controls
15.
Schoolchildren & students
16.
Miscellaneous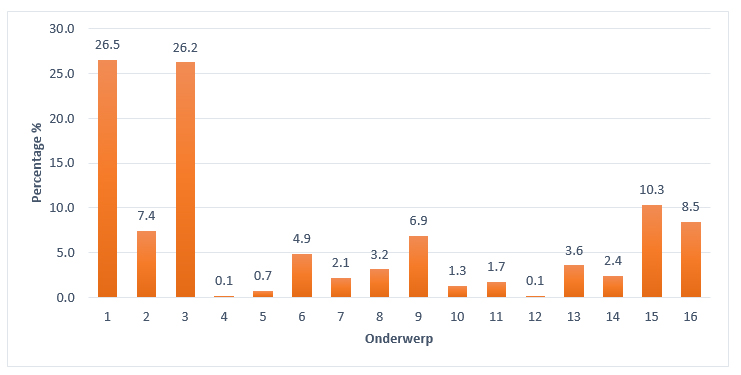 Press conference
This annual event was not organised in 2015, mainly because there was still no news about the new Anti-Doping Policy Implementation Bill (Wuab). It will take place in early 2016.
Press contacts
The Doping Authority was approached on more than 450 occasions in 2015 by the media, both for information and comments about current events and for answers to in-depth questions not related to topical issues. The CEO of the Doping Authority acts as spokesman. In his absence, or when specific topics are involved, the Doping Authority's Scientific Policy Officer sometimes take his place.